rechargeable led tea light candle
Rechargeable Led Tea Light candle
There are three kinds of rechargeable led tea light candles for choosing, each kind candle has their amazing feature, pls check:
pin rechargeable led tea light candle
These rechargeable tea lights illuminate with the soft yellow flicker of a real tea light candle. They are safe to use, stay cool to the touch and can be used anywhere you'd use real tea lights.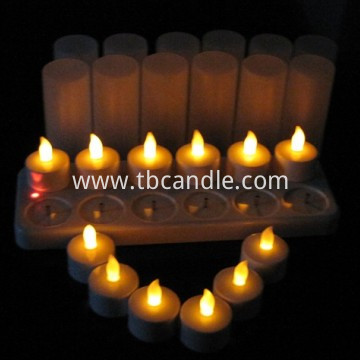 Inductive rechargeable led tea light candle
Inductive charging base avoids all pins, prongs or bothersome slots to line up. Just drop the tealights into their charger holes.
Link up to 4 units together using one plug-in charger. About 500 reliable recharges from a high quality NiMH battery. Amber tea lights have True Flicker technology to perfectly mimic a burning oil or wax candle. There's no soot, mess or open flame.
Moving wick rechargeable led tea light candle
Yes, the candle wick could be moving like real candle when turn on.There are also timer button on candle bottom.
Add a spot of light to your home with this moving wick rechargeable flameless tealights set. Whether you display them together on their decorative charging base, or separately as sweet beacons of light, the realistic flames add lifelike brightness to your indoor display.