Product Description
At TaBo's core rests a desire to create with intent ­– thoughtful yet above all, a conscious mind. Seeking out materials that provide functionality whilst also encouraging sustainability and the versatility to be repurposed.
It is with much excitement that we introduce TaBo's home DIY candle making kit. The ingredients to get you started and experience the olfactory art of candle making.
This kit contains the deconstructed heart of your favourite TaBo candle; one of our fine fragrance oil blends, 100% soy wax flakes, natural cotton fibre wick and a few extra 'tools of the trade' to keep your production on course.
I know being inside is sometimes stressful and honestly, we just need something to take our mind off of the outside world. Worthy by Nature usually hosts our DIY candle parties in people's homes and we refuse to let these circumstances stop us from being there from you! So, we decided to bring the party to your doorstep! Don't worry we will be there every step of the way! Each DIY candle making kit will include step by step instructions and all of the supplies you will need from start to finish to create one 10 oz candle. I cant wait to see your creations! So put on something comfy, turn up your favorite song, and let's hang out!
There are several diy candle making sets for your choice:
DIY candle making kit supplies types

| | |
| --- | --- |
| Type1 | |
| Type2 | |
| Type3 | |
| Type4 | |
| Type5 | |
| Type6 | |
| Type7 | |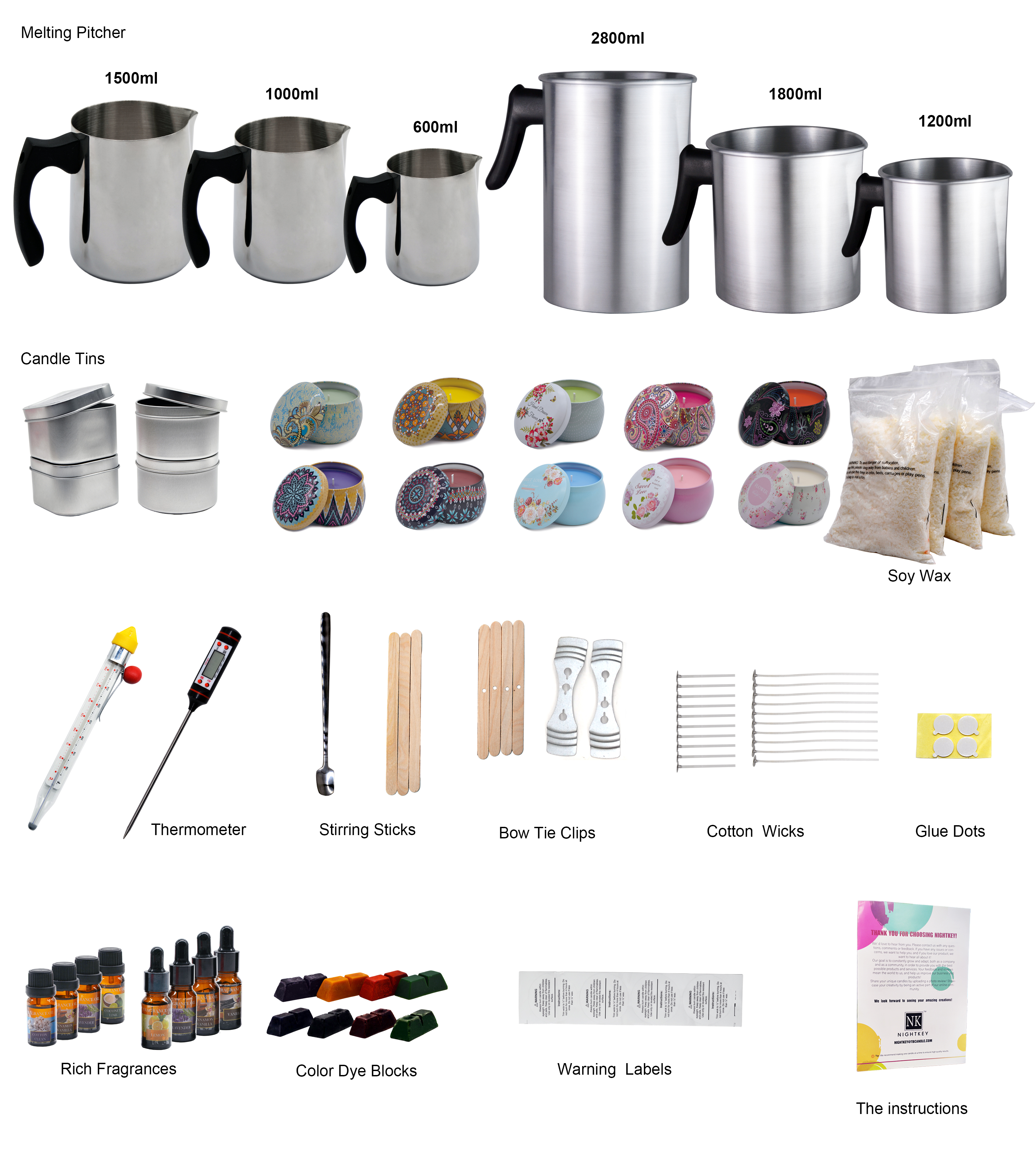 Product Parameters
1 piece of 2L melting pitcher
4 bags of 8oz soy wax
1 piece of glass-stem thermometer
2 pieces of 8oz round tins
2 pieces of 8oz square tins
4 color blocks
4 rich fragrances
4 cotton wicks
4 pieces of glue dots
4 pieces of bow tie clips
4 stirring sticks
4 pieces of warning labels
1 piece of instruction
Custom color box