Product Description
The plastic modern white artificial tealight candle holder allows you to create a classic pillar candle arrangement with the convenience of an everyday tea light.
Designed by style icons, these distinctive set candle holders are pillar like in appearance, designed to hold tea light candles. Perfect for the creating the illusion of a commanding pillar candle, cluster together with an accenting mirrored tray to complete the look. Group together to create a captivating focal point at your next dinner party or stand alone for a more intimate setting to inspire conversation into the early hours.
To protect the candle holder exterior we recommend only using this set indoors. Allow sufficient air exchange in closed containers such as lamps and lanterns & ensure candles are always placed horizontally.
Please note: Tea light candles are not included.
This kind of tea light candle holder in a set of 2 or 3 pieces in the size large of the famous home decoration and accessory. The decorative faux candles burn with a tea light placed in the specially designed holder.
The tea light candle holders with tealight candle looks like real large wide candles, but are in fact candle holders to fit a tea light. This way you can still enjoy large candles without them leaking and no longer burning beautifully. These modern candle holders come in white, causing it to look just like a real candle.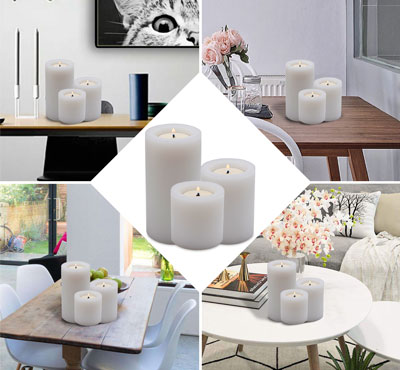 Product Parameters
Type

Size(cm)

Materials

Packing

MOQ

Diameter(cm)

Height(cm)

1 Hole

6

6

Plastic

Gift Box, Colored Box, White Box, Brown Box ,PVC Box and Custom Box

500 pcs

6

8

6

12

8

11

8

15

8

18

10

12

10

15

10

21

10

30

10

40

3 Holes

16

9

5 Holes

19

12